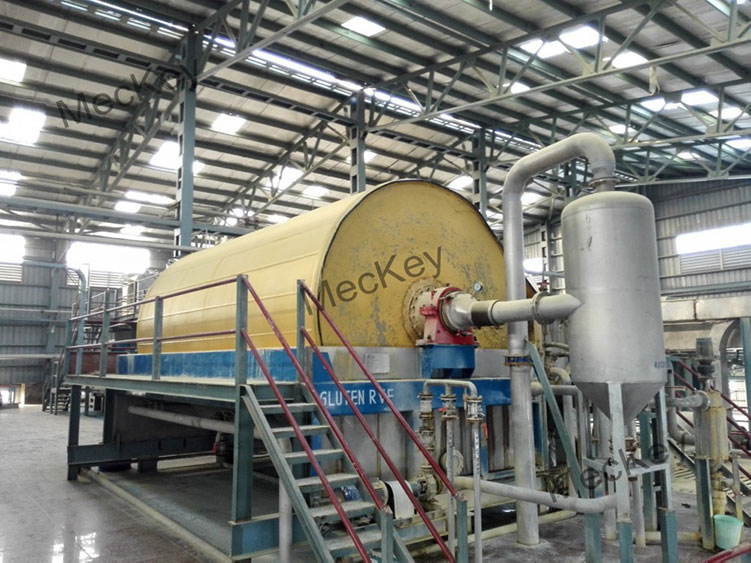 Application
1.Fermentation liquor (penicillin, for example) filtering dehydration in pharmaceutical industry;
2.Metal hydroxide slurry, coal washing wastewater, copper ore filtering dehydration;
3.Corn protein filtering dehydration;
4.Wheat A starch filtering dehydration;
5.Citric acid fermentation liquid filtering dehydration.
Description
MKBF belt-discharge rotary drum vacuum filter is developed and manufactured by absorbing European advanced technology. It can achieve continuous suction filter, dehydration and automatic discharge on vacuum condition. Special design and perfect performance make it suitable for thickening filter and dehydration for solid & filtrate with lower consistency, fine particle and high viscosity.
Working principle
MKBF belt-discharge vacuum filter is the filter cloth running style solid & filtrate separation equipment. When working, the stock in the tank penetrate the filter cloth and get into the distribution valve by suction tube under the vacuum extraction, then go through the liquid outlet pipe into the gas-liquid separator and drain the solids form filter cake on the filter cloth. The cake automatically discharges after going through discharge roller by driving of running cloth. The filter cloth gets into the cloth washing box through automatic error correction device, and gets newborn after both sides rinsing by high pressure water, then passes the tension roller to get back to the drum cover and starts new filtering process.
Characteristics of the equipment
1.Customized design to meet customers' various demands;
2.High capacity, high dryness and easy discharge;
3.Simple process layout, saving materials, money and labor;
4.High filtrate clarity, high recovery rate;
5.Good producing environment, easy and convenient operation.
Main technical specification
Model
MKBF10
MKBF15
MKBF20
MKBF25
MKBF30
MKBF35
MKBF40
MKBF45
MKBF50
MKBF60
MKBF70
Filter Area(㎡)
10
15
20
25
30
35
40
45
50
60
70
Vacuum(MPa)
(-0.08)~(-0.06)

Feeding Concentration(g/L)
80~130

OutletDS
≥40%

Daily Production(tpd)

3~5
4~6
5.5~8
6.5~9
8~10
9.5~11.6
11~13.2
12~15
13.5~16.5
15~20
17~23
Motor Power(kW)

2.2
3
3
3
4
4
4
4
4
5.5
5.5