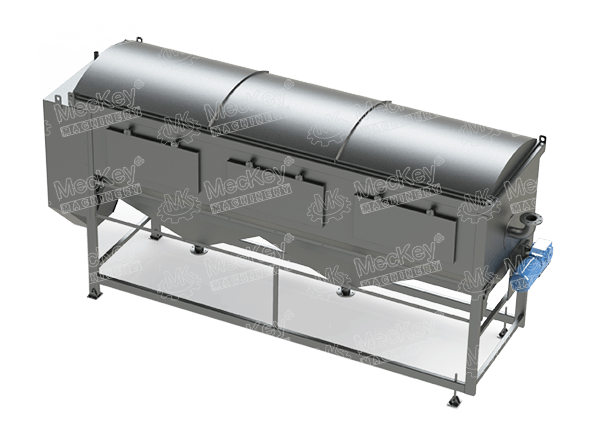 Application
The MKFR series rotary drum filter is used for washing gluten and separating starch from the wet gluten in wheat starch & gluten plant.
Description
The gluten washer is widely used in wheat starch factory for separating gluten and starch. The screen run in a low rotation, when the mixtures of starch slurry and gluten enters the screen , starch slurry leaks from the mesh to form under flow, and gluten stays in the mesh as overflow. It is the key equipment for gluten extraction.
There are three kinds of mesh in the screen, 0.5mm, 1.0mm, and 1.5mm, which help to produce the gluten better. And the sprayers in the screen wash the screen to prevent mesh block.
Characteristics of the equipment
1.The equipment is made of stainless steel to prevent starch pollution;
2.The equipment surface is treated in a special process, beautiful and oil & dirt resistance;
3.The screen consists of different size of apertures to help gluten forming;
4.Its mesh is manufactured by special plate, beautiful and durable;
5.The nozzle passes strict contrast test of pressure and flow;
Main technical specification
型号Model

MKRF-800

MKRF-1000
MKRF-1200
出里面粉量Capacity(t/d)

50~100

100~200

200~400

功率Power(kw)

3

Site photo