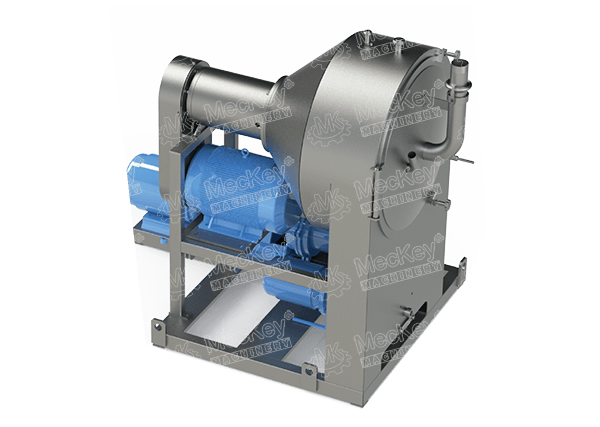 Application
The MKCS series centrifugal sieve is widely used for separation starch and fiber in wheat/cassava/potato starch plant.
Description
Centrifuge screen is specially used in separation of fiber and starch. The body has a fully high quality stainless structure, with the character of anti- erosion, anti- oil, and anti-dirty through a special surface treatment. Sieve basket is the key assembly and it must be strictly checked with centrifugal balance test by authoritative department to make sure its stable running. The machine with high capacity, reasonable power efficiency, and high starch extraction ratio, is the output of MecKey company's hard working and advanced technical study
When the equipment running, the starch slurry enters the bottom of the sieve basket, and then under the effect of centrifugal force and gravity, the slurry goes a complex curve movement toward the bigger size direction, even rolling. In the process, the bigger impurities arrive the outer edge of the sieve basket, collecting in the slag collection chamber, whist the starch particle which size is smaller than the mesh fall into the starch powder collection chamber.
The machine has spray nozzle device both in the back and front of the sieve basket. By spraying washing water, the material move speed is accelerated whist the starch particles are easy to separate from the fiber slag.
Structure
Characteristics of the equipment
1.The equipment is made of stainless steel to prevent starch pollution;
2.The equipment surface is treated in a special process, beautiful and oil & dirt resistance;
3.The rotating sieve basket is corrected by the authority balancing accuracy to ensure that the equipment running smoothly;
4.Its mesh is manufactured by special plate, beautiful and durable;
5.The nozzle passes strict contrast test of pressure and flow;
6.The devices features big capacity, reasonable allocation of power, high starch extraction rate, easily installed.
| | | | | |
| --- | --- | --- | --- | --- |
| Model | MKCS500 | MKCS650 | MKCS850 | MKCS1000 |
| Rotary speed(r/min) | 960~1100 | 960~1100 | 960~1100 | 960~1100 |
| Screen basket dia.(mm) | 500 | 650 | 850 | 1000 |
| Power(kW) | 11 | 15 | 18.5~30 | 37~45 |
| Single unit dia.(mm) | 2300×850×1760 | 1785×1000×1905 | 1965×1200×2055 | 2075×1400×2160 |
| Single unit weight(kg) | 1150 | 1300 | 1480 | 1800 |
Site photo