Application
The MKRM series rasping mill is used to crush/grind the potato and cassava into starch slurry and granules.
Description
The rasper is widely used in potato starch processing industry for potato crushing. Potatoes spin into the gap of stator and rotor in which it is crushed into granules and the uniformity starch slurry falls into the basin via the sieve.
The device is made of stainless steel, the rotor is made of special stainless steel by forging process, and rotor is installed on hundreds of specially designed, two-way combination rasps with the thickness of 1.25mm.
MecKey manufactures the equipment for customers wholeheartedly. The distance between the stator and rotor is only 1 ~ 2mm, which ensures higher efficiency of the rasping mill. The simple rasp clamping system ensures rasp works in the best position. And it is very simple to assemble and disassemble the mill, there is no need to use special tools, general staff is OK. The capacity of the entire production line can be adjusted by adjustable speed feeding conveyor.
Structure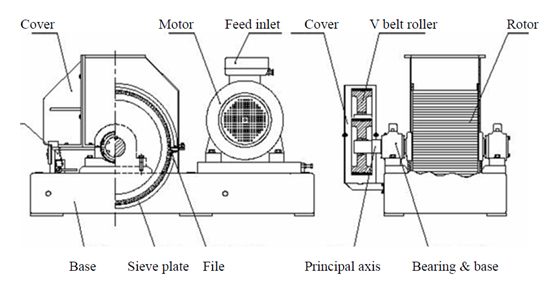 Characteristics of the equipment
1.The rasping mill is made of stainless steel to prevent starch pollution;
2.The rasping mill surface is treated in a special process, beautiful and oil & dirt resistance;
3.The rasping mill is easy and safe to operate.
Main technical specification
| | | | |
| --- | --- | --- | --- |
| 型号 Model | MKRM-300 | MKRM-400 | MKRM-500 |
| 转速 Rotary speed(r/min) | 2100 | 2100 | 2100 |
| 转子宽度Rotor width(mm) | 300 | 400 | 500 |
| 功率Power(kw) | 90~110 | 132~160 | 160~200 |
| 物料处理量Capacity(t/h) | 18 | 25 | 32 |
| 设备重量Weight(kg) | 2500 | 2600 | 3500 |
| 外形尺寸Outside dimensions(mm) | 2170*1090*1190 | 2170*1190*1190 | 2170*1290*1190 |