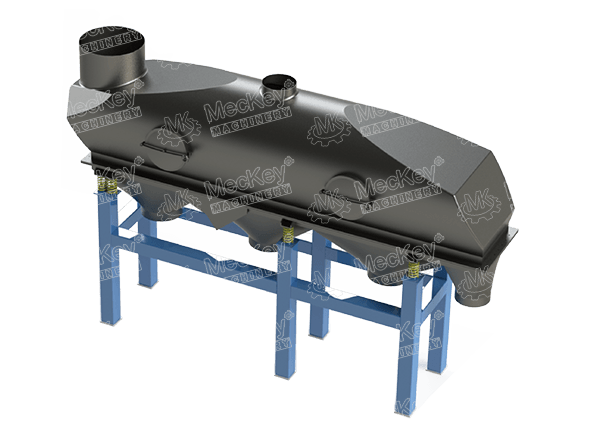 Application
The dryer is widely applied in chemical industry, light industry, pharmaceutical, food, plastic, oil, slag, salt, sugar, etc. for drying, cooling and humidifying of powder particle materials.
Technical Features
It is stable in operation and convenient in maintenance, low noise, long service life.
It is good in regulation and wide in suitablity, the thickness of raw material layer and moving speed inside the machine and the amplitude can be adjusted.
Less damage to the surface of material. It can be used for drying material that is easy to broken. The work effect will not be affected by irregular material shape.
It is effectively prevent the cross pollution between raw material and air because the equipment adapts fully closed structure and the environment of operation is clean.
It has the characteristics of high mechanical efficiency, high thermal efficiency and good energy saving effect. Compared with ordinary dryer, the energy can be saved about 30~40%.
Main technical specification
| Model | ㎡ | Inlet Temp.(℃) | Outlet Temp.(℃) | Evaporation Capacity(kg/h) | Power(kW) |
| --- | --- | --- | --- | --- | --- |
| MKFB30 | 0.9 | 70~140 | 40~70 | 20~35 | 0.75×2 |
| MKFB40 | 1.35 | 70~140 | 40~70 | 35~50 | 0.75×2 |
| MKFB60 | 2.025 | 70~140 | 40~70 | 50~70 | 1.1×2 |
| MKFB80 | 2.7 | 70~140 | 40~70 | 70~90 | 1.1×2 |
| MKFB120 | 3.6 | 70~140 | 40~70 | 100~130 | 1.5×2 |
| MKFB140 | 4.5 | 70~140 | 40~70 | 120~170 | 1.5×2 |
| MKFB160 | 5.625 | 70~140 | 40~70 | 150~180 | 3.0×2 |
| MKFB190 | 6.75 | 70~140 | 40~70 | 160~210 | 3.0×2 |
| MKFB240 | 9.6 | 70~140 | 40~70 | 200~280 | 3.7×2 |
| MKFB280 | 11.25 | 70~140 | 40~70 | 230~330 | 3.7×2 |
| MKFB400 | 14.4 | 70~140 | 40~70 | 290~420 | 5.5×2 |
Site photo